We have been really fortunate to join a whale-watching trip on a catamaran Maximus while in Boavista. Up to 12 people can enjoy this experience and normally there is also a biologist present on board.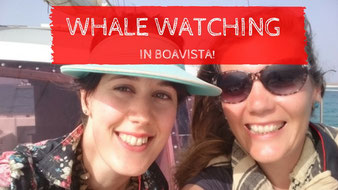 Prior to our trip we had been invited to join a seminar about a whale watching tour operators in Boavista that took place in Sal Rei. We learnt some interesting facts about whales and correct practices of whale watching so the disturbance to animals is minimized. It reassured us that we are in right hands to start our adventure!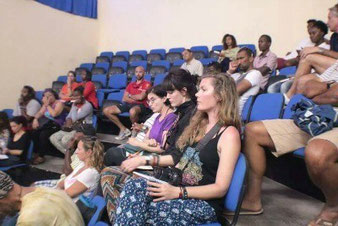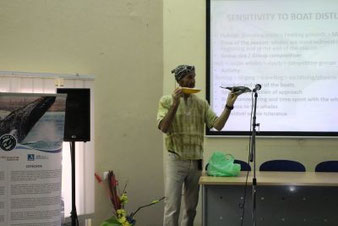 The trip itself is about 2-4 hours long, depending on conditions.The best time to see humpback whales in Cabo Verde is from mid March with a peak in April.  Although, just to be on a catamaran  and seeing the bay of Sal Rei is an incredible experience by itself!
We had been patiently anticipating that moment of finally seeing this magnificent creatures from up close. It is truly a rare privilege as there is only about 300 humpback whales (Megaptera novaeangliae)  remaining that choose Cabo Verde as their breeding ground. Majority of  of this species (approx. 10,000-12,000) breed in the West Indies. Humpback whales migrate seasonally to this archipelago from Iceland and Norway and mate here. After mating females travel to north to feed and returning around  a year later to give birth.They arrive between December and April, nurse their calves in a shallow water free from waves until they are strong enough for the open ocean. The best places to see humpback whales in Cabo Verde is west and southwestern coast of Bovista and also off Sal and Maio. Individuals can be identified from natural markings (ventral fluke patterns). Males sing songs, at least partly to attract females, and to maintain distance from other males. Scientists usually accompany tourists on a whale watching excursion. Our scientist on a trip was Pedrin (on a picture above) who has lived in Cabo Verde for over a decade. Researchers collect data on the temporal and spatial distribution of whales, their behaviour, as well as pictures and skin samples for individual identification.
After an hour or so we finally spotted a whale! Just for a brief moment before it disappeared back into the depths of the sea we had a pleasure to see this rare animal from the catamaran. It definitely made us more appreciative of people who try to protect these animals in Cabo Verde and make sure that remaining 300 individuals continue to visit waters of this beautiful archipelago!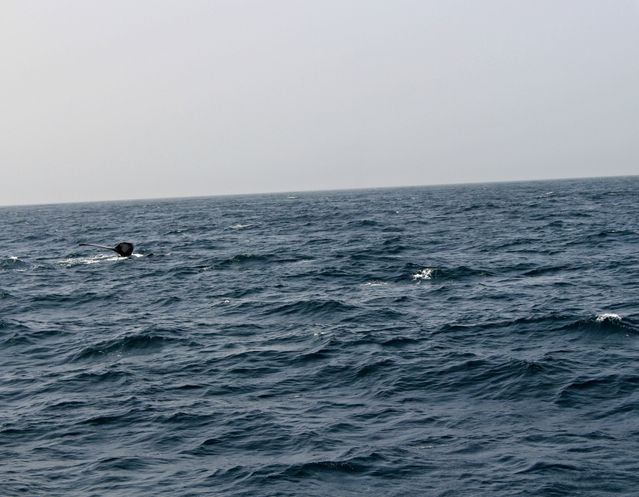 More information about a whale watching trip:
http://www.sailingmaximus.com/
http://www.naturaliaecotours.com/
Sources: 
Guidebooks: Bradt Guide book Cape Verde
Websites: http://www.naturaliaecotours.com/