Fogo captivated our imagination for a long time before we even landed on this mysterious island of Cabo Verde. This island with an active volcano seemed to be so different to kilometers of pure white sand of Boavista. Finally, we were ready to unleash its secrets and experience Fogo to the fullest!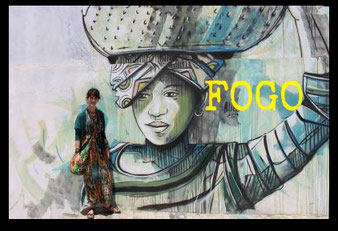 ---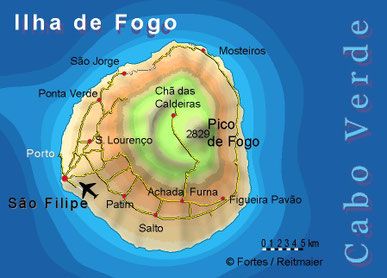 ---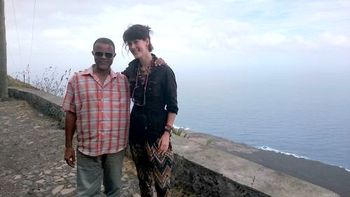 When you travel around islands you soon discover how easy it is to find new friends who are eager to show you around or know someone else who can do that. You don't have to look for anyone as locals tend to find you! Fogo was not an exception and we were recommended Jose (on a photo), our taxi driver for the remainder of our stay on Fogo. Of course, you don't need a taxi to get around. It's cheaper to hop in one of the aluguers (local transport-anything from a minibus to a converted 4x4). However, me and Mia agreed a while ago that we won't sacrifice money on our safety and we manage to stick to it most of time! Jose seemed to be very happy with the arrangement and we also got a deal for our trips to different locations around the island. Despite the fact, that our conversation was limited to our rudimentary knowledge of Portuguese/Criolu we had a very good time!
One of the highlights of our trip would definitely be a visit to famous Chã da Caldeiras where Pico do Fogo (volcano) is located. Standing at the foot of the volcano in the crater was definitely an unforgettable experience. The scenery was stunning and breathtaking everywhere we looked and we wished once again to have more time to explore!  This place, which is not a surprise, is also a popular spot for the tourist that come to this island. As a matter of fact, many of them come here to solely climb the volcano and go back (sometimes on a same day). We didn't have enough time to climb to the top (it takes several hours) and neither we climbed the small Pico which can be reached in 1-2 hour! We just simply wanted to experience the ambiance (to surprise of many people) of this place and see for ourselves what is left here from the last eruption in 2014. Frankly, there is nothing left. All  houses were destroyed and people had to leave to neighboring villages and leave everything behind. Once, popular guest houses that were mentioned in tour guides no longer exist....On our trip we met people who used to live here and now had to find a new place elsewhere. We also met people who left Fogo for another, more touristy island with a hope to find work and new life. Living on Fogo  is certainly full of challenges and hardships!

Watch video of Mia walking in the crater!
An unexpected surprise on a way to Mosteiros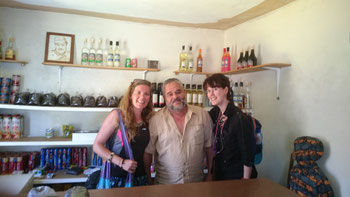 On our second day we decided to spend a night in the northwest part of the island- Mosteiros. It would also be a great way to see the whole island as there is a circular road going to Mosteiros and then back to São Filipe. Not many taxi drivers are keen on this route and they prefer to go directly to Mosteiros on a new route via north coast. Fortunately for us, Jose, our driver agreed to take us longer way! We also wanted to have a break at some point, just to have some coffee and let Jose have a bit of a rest! We stopped in Achada Furna at some local cafe and as it turned out it also a place where the famous singer of Fogo, Ramiro, lives now.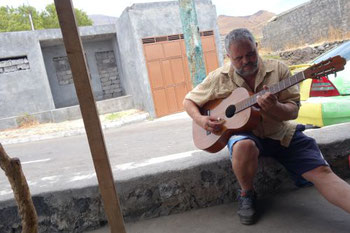 We read about  Ramiro in  a travel guide and we wished to have seen him and his group performing. Unfortunately, it wasn't possible because of our schedule. Therefore, we were certainly astonished to see him here in the shop. As it turned out, Ramiro used to live in Chã das Caldeiras but had to leave after the last eruption and now temporarily lives with his family in Achada Furna. Ramiro was very friendly and seemed to be happy chatting to us two strangers. He made us some delicious local Fogo coffee served with mouthwatering goat cheese. That alone would completely made our day but to our surprise he grabbed his guitar from behind the counter and started singing for us even though he had a sore throat and wasn't feeling well. A few moments later, his distinctive voice captivated our souls as we were listening to morna style music. Sipping our coffee together with Jose, we felt incredible fortunate to have been here. 
Watch Ramiro performing a song for us!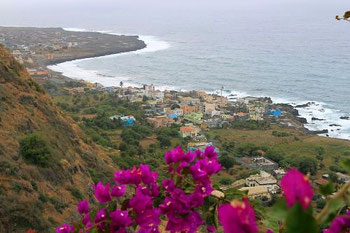 After a little bit of a scary journey with a stop to repair a punctured tyre we arrived the same day to Mosteiros. We merely checked in the guest house when someone started to chat to us. As usual, these unexpected encounters lead to unexpected offers and this guy wanted us to go with him to his winery to taste his wine! We had to rush our late lunch as he was leaving in an hour. We were a little bit cautions as we didn't know the guy but it turned out to be one of the biggest businessmen in Fogo who owns winery and several other merchandises- Eudinio Lopes. We chatted about his time when he lived in USA and decided to return to his island of Fogo.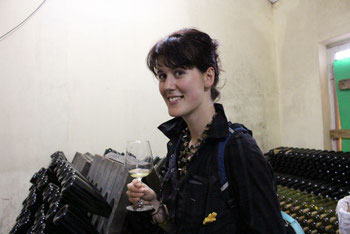 Eduinio was very happy to show us around his wine factory full of stocked bottles of different varietes. We were offered to have a tester of his produce and some of the wine tasted definitely delicious! It is not a surpsie that Fogo is well known for wine. The soil is very fertile and it adds distinctive taste to its wine. The grapes that grow in Fogo are called muscatel and touriga. The most famous wine of Fogo is Chã and other one, that Eduinio produces is called Sodade. His business was also affected by the eruption as he used to have his vines in Chã das Caldeiras which he had to move to another location. This unexpected wine tasting session was a highlight of our stay in Mosteiros as it turned out to be not much in here and not a very friendly atmosphere. So we were quite happy to leave to São Filipe the next day....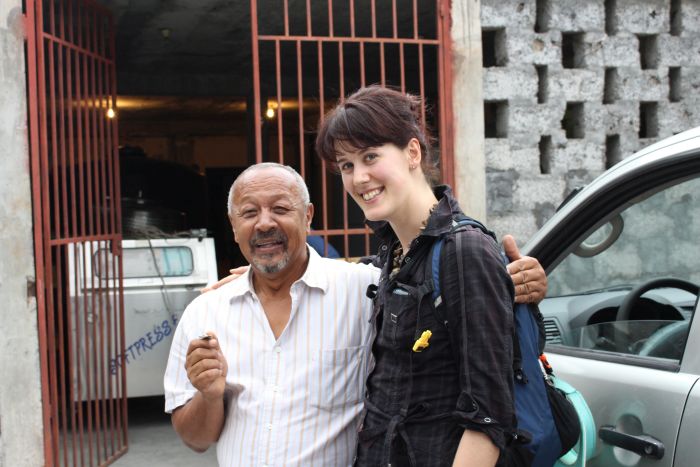 São Filipe is a beautiful town with cobbled streets and full of sobrado houses. We enjoyed walking through the town and especially visiting a local market. Here we bought some local produce and of course a goat cheese! There are some interesting graphittis in town that go well with the surrounding and friendly people. If you are interested in learning more about the locals and their produce you could go to the Museu Municipal de São Filipe or just wander around and have a coffee in one of the restaurants.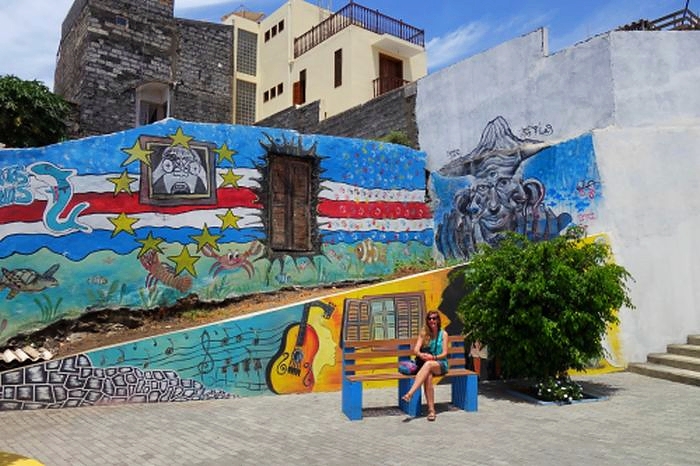 Watch the video about about São Filipe and Fogo!