Let's have a look with us what to bring to this small and beautiful island, hidden treasure of Cabo Verde! An island with sandy beaches, azul waters and relaxing atmosphere has a lot of to offer. You might need anything from beach holiday related items to a dictionary!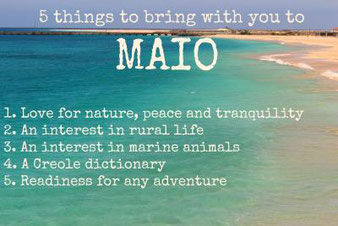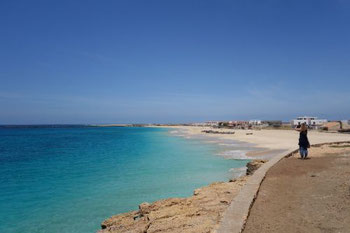 1. Love for pure nature, peace, tranquility and genuine friendliness
When we arrived to Maio we were seriously impressed by the beauty of this island! This is a very special place that feels as if it has not been discovered by tourists: practically untouched and unique. Fortunately, the beachfront development in Vila do Maio, the island's capital is still slow, compared to the other two sun islands: Boa Vista and Sal. We hope it stays like this!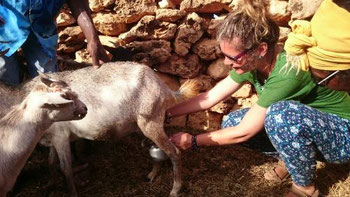 2. An interest in rural life
Experience the life of the people from Maio in a local community in one of the small and isolated coastal villages.  It is very peaceful and family is very important. FMB can organise a stay in a local family house. We spent two days with the lovely Albertina and Silvestre, who teached us how to milk a goat ('ordina cabra'). And their friendly neighbour taught us how to make goat cheese from fresh goat milk. What a special experience!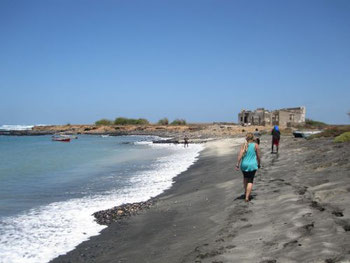 3. An interest in marine animals
The chances you will see a dolphin or a humpback whale are reasonable, especially during the right season (December—April). Other marine wildlife are the loggerhead sea turtle (Caretta caretta) (the second-largest nesting population in the archipelago), fish and even sharks (!) so there is plenty to see for the biologist and conservationist that travels to Maio! Make sure you contact the Maio Biodiversity Foundation whilst you are there and bring your binoculars along!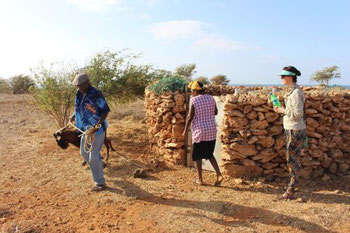 4. A Creole dictionary or a good listening ear
In the villages in Maio not many people speak Portuguese. You will get by with some hand gestures but if you really want to speak and get to know the wonderful people from Maio, try to learn a few words Creole. Apart from the fact that it is a lovely language, it will make it so much easier to communicate with your host when you decide to stay in a homestay. Good luck!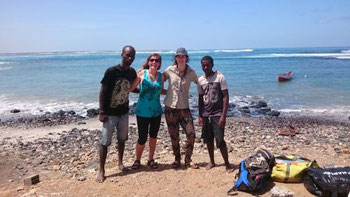 5. Readiness for any adventure
It also means a readiness to hop onto a wooden boat for research purposes whenever necessary! Like Boa Vista, the azul waters of Maio are breathtakingly beautiful and the water is crystal clear which means you can see a lot of the world that is being displayed inside the water without having to dive, snorkeling is sufficient. So bring your snorkeling gear and embrace the adventure of big waves and adventurous boat rides! If you participate in a sea turtle/ humpback whale/shark project with the Maio Biodiversity Foundation (FMB) make sure you take anti-nausea tablets!
---
Sources and more info:
FMB International Volunteer program – Participants Guide 2015; www.maioconservation.org
Marco Polo Cape Verde
Bradt Travel Guide Cape Verde
www.bela-vista.net
www.caboverde.com
www.guiadecaboverde.com
Dominicus Cabo Verde