We have tried the goat cheese on all of the islands we've visited so far and we have to be honest with you: never before we have tried and enjoyed a cheese so rich, fresh and perfectly salted than the goat cheese in Cape Verde!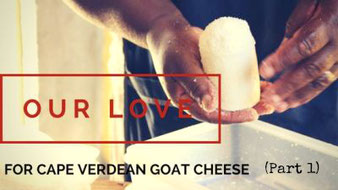 ---
"Cheese production is one of many activities that reflects the integration over the centuries of Cape Verde's twin spirits, African and European" – Slow Food Foundation for Biodiversity.
---
Goat cheese, known by a lot of people as a type of cheese with a creamy soft texture, a mild taste and goes well with almost every dish whether sweet or savory. It goes without saying that goat cheese is a must to have in the (vegetarian) kitchen! Famous for its characteristics and recognizable taste, goat cheese is one of the products for which countries compete on Slow Food events, mentioned for instance on the website of the Slow Food Foundation for Biodiversity. Less known by people is that, amongst these winners is the archipelago of Cabo Verde, where one of the best types of goat cheese is made.
GOAT CHEESE FROM CABO VERDE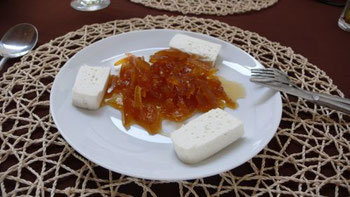 Cape Verdean goat cheese: what is so special about it? Goat cheese from Cabo Verde, Queijo de Cabra in Portugese, is very unique. As big fans of Cabo Verde and the Cape Verdean kitchen, we've tried the goat cheese on all of the islands we've visited so far: Boa Vista, São Vicente, Santo Antão, Santiago, Fogo and Maio and every goat cheese tasted fantastic!However, before you want to book your flight right away, let us show you where you can you buy the best quality goat cheese. Moreover, we will teach you how it is made, how to eat it Cape Verdean style (with dulce de papaya, see the picture) and introduce you to a simple but delicious dessert made of goat cheese: pudim de queijo (cheese pudding).
So let's get started with a short introduction on goat cheese before we head off and explain the process of how goat cheese is made. We were lucky that this was taught to us in the beautiful peaceful village Barreiro in Maio, by Albertina's lovely neighbor. She took the time to introduce us to the technique of making goat cheese and she showed us the different stages. We will talk more about goat cheese making in Maio in part 2!  
Goat's cheese is produced on various islands of the Cape Verdean archipelago and different types of cheese are manufactured all year round. Its special taste is based on secrets stored by generations of producers and only the descendants know the precise technique. According to the majority of online sources and what we've heard from the people from Cabo Verde: the best quality goat cheese is made across the island of Fogo as well as all over the island of Santo Antão.
In Fogo, we enjoyed goat cheese together with another Cape Verdean famous favorite: coffee! Whilst we were listening to Ramiro playing the guitar, we tried a coffee with fresh goat milk and excellent goat cheese.
PLANALTO NORTE IN SANTO ANTAO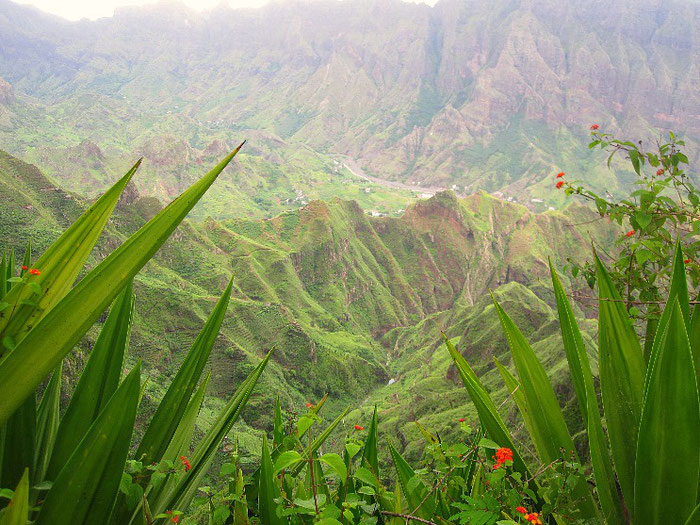 Really good quality goat cheese can also be found in Santo Antão, an island so beautiful with a lush tropical environment and green, steep valleys.
The goat cheese from Santo Antão is renowned in the whole of Cabo Verde. With a soft, milky texture and a fine taste, this cheese is very popular! It is produced in local farms in small villages, located high up in the mountains of Santo Antão.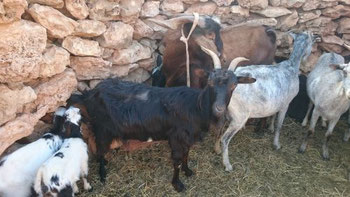 In the mountainous environment of Santo Antão, on a plateau that is dry and almost uninhabited, there is a group of shepherds that raise goats and make cheese. This cheese, called 'Planalto de Bolona' is an artisanal cheese that is produced in uncommon environmental conditions. The milk comes from goats that live in the harsh volcanic highlands of Santo Antão island, an area that is called Planalto Norte. Located at an altitude of between 800 and 1500 metres and it surely isn't an easy environment for cheese making. However, a small nucleus herders not only make cheese but also play a crucial role in protecting the land that is subject to significant erosion from infrequent but torrential rains. In this difficult and arid environment, goats are the only animals that are able to survive on so little. Somehow, the shepherds have the capacity to adapt to these difficult environmental conditions, to raise animals and to produce a unique goat cheese!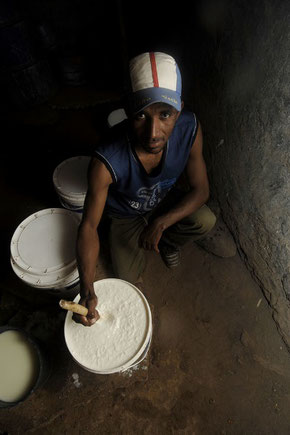 The process of goat cheese making at Planalto Norte is different than the usual cheese-making process because of two important and distinguishing aspects: First, the goats are left to graze freely for the whole day. They gather at a certain time every day to be given water. Water is very valuable and, except for short periods, has to be brought in by water tanker or donkey. Second, the cheese-making process begins immediately after the fresh milk is collected. There is no other option because the milk cannot be heated, since there is no electricity or wood available. Instead, the processing is carried out naturally:  the natural heat of the milk is used, direct from the animal and rennet from the kid goats. So without using any additional sources of heat. This happens in traditional stone huts with straw roofs and matting known as case de queijo.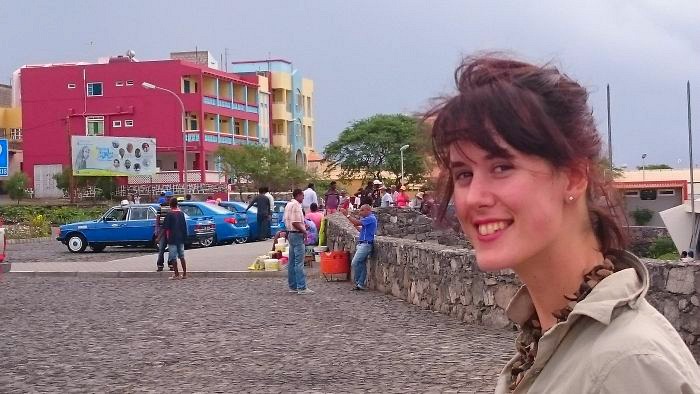 In Santo Antão the best place to buy fresh and tasty goat milk cheese is in Porto Novo. This is the harbour of Santo Antão and the first city you encounter when you step onto the island from the boat from São Vicente. Twice a day, when the ferry arrives and goes, you will find local ladies that sell fresh fruits, vegetables and this mouth-watering goat cheese at the harbour.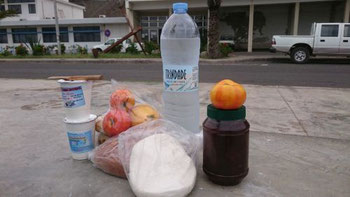 Something that we've learned during our travels in Cabo Verde and that always seems to come in handy is to bring a wooden spoon with that you can carry around in your bag, and preferably also a jar of dulce de papaya. This way, whenever you find your fresh goat cheese the only thing you need to buy is fresh bread and you are one step away from making a healthy goat cheese and dulce de papaya sandwich.
Last year we bought a delicious goat cheese from Santo Antão on the market in Mindelo, São Vicente as you will see in the video below: 
---
Sources:
- Guia de Cabo Verde
- www.cheesmaking.com/Chevre.html
- www.fondazioneslowfood.com/en/slow-food-presidia/bolona-planalto-matured-goat-   cheese/
  www.fondazioneslowfood.com
- www.slowfood.com/focus-on-cheese-2007-cyprus-cape-verde-italy-france-goat-cheeses-from-around-the-world/
- *http://mgafrica.com/article/2015-08-31-africa-cheese
- www.motherearthnews.com/real-food/how-to-make-goat-milk-cheese-zmaz02jjzgoe.aspx: How to Make Goat      Milk Cheese
- Information Museu Municipal de S. Filipe, Fogo island
- Pinterest: Cabo Verde
- Microbiota of the Planalto de Bolona: an artisanal cheese produced in uncommon environmental conditions in the Cape  Verde Islands.December 2010, Volume 26, Issue 12, pp 2211–2221 .World Journal of Microbiology and  Biotechnology. http://link.springer.com/article/10.1007/s11274-010-0406-7
---