It's true when they say that it is the people that make a place feel special. And it is also because of these connections that this particular place is so well remembered in the months and years following your trip. In that sense some things in Cabo Verde can only be experienced in the presence of these unique people while others can be enjoyed much more easily....so let's have a look!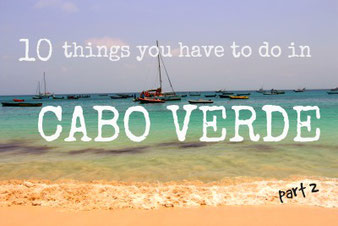 ---
1. Visit Chã das Caldeiras in Fogo
Chã  must be one of the most spectacular sights in the whole archipelago! Once you drive up there you get surrounded by astonishingly beautiful scenery dominated by a conical shaped volcano Pico and its sister little peak. You could climb both of them but having a guide with you is recommended. Unfortunately, in 2014 there was an eruption and many people had been displaced because of this. However, attempts of a return have been made.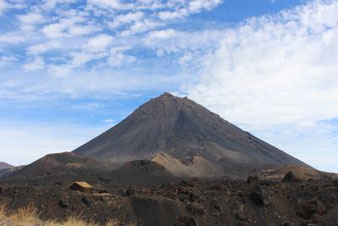 TIP: Book your flight to Fogo in advance as it can be sold out due to big groups of tourists.
2. Experience a homestay in Maio
The best way to get close to Cabo Verdeans is to spend a night at their place! Luckily, FMB organization in Maio runs a homestay project which allows culture hungry individuals to immerse themselves in the daily lives of local communities. You could end up going to a farm and milking a goat or even better-observe how a fresh goat cheese is being made! At the end of the day you could be rewarded by a tasty home made meal and some wine!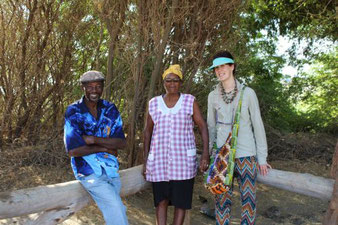 TIP: There are currently 12 women involved in a homestay project so you could end up sleeping in different village every night!
3. Go whale-watching in Boavista
April/May are the best months for whale watching in Cabo Verde and you could join a whale watching trip with one of the operators. We went with a catamaran Maximus and had a great half a day long trip looking for whales. Fortunately we managed to see one briefly before it dived back into the depths of the ocean. This experience was even more special knowing that there is only around 300 individuals of this species of humpback whales left in the wild.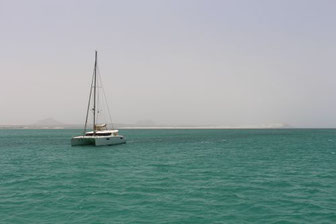 TIP: Make sure you go with a registered tour operator that doesn't cause disturbance to whales. The smaller vessel the better.
4. Float in Pedra de Lume in Sal
This old disused salt mine with an alien and moon like appearance, has surprisingly pleasant pools for relaxation and floating around. A good place to visit after traveling where you can rejuvenate and easily spend a good few hours. These salty mines also have some healing properties and there is  a restaurant on a site. However, to use the pools you have to pay 5 euros as the place is privately owned but you can float as long as you want!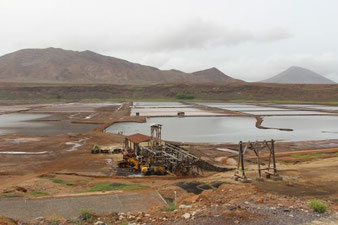 TIP: Arrive early or later before closing to avoid big groups of tourists.
5. Visit the impoverished district Prakka in Boavista
The lesser known area of Sal Rei in Boavista is known by locals by different names: Prakka, Barracas, Boa Esperanca. It is an impoverished area of a touristy island where many people from mainland West Africa live and go around their daily business. This place has no sanitation, buildings that are half build (barracks), muddy paths but people who live here are very proud of this place and they like its 'village' like atmosphere. If you venture out here, you can even have a nice meal in one of the most popular Prakka's restaurant Lanchonete.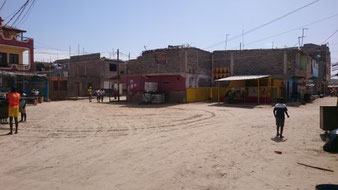 Tip: It is advisable to venture around with a local guide as a presence of a tourist can raise some unwanted attention.
6. Listen to Ramiro's voice
Ramiro must be one of the most famous singers in Fogo and it is not surprising. His melancholic and captivating voice catches your soul and brings a tear or two to your eye. We have been very fortunate and met Ramiro in a village close to Chã das Caldeiras as his home was destroyed by eruption in 2014. Ramiro sold us a very tasty goat cheese and coffee and spontaneously started to play on his guitar and singing while we were having refreshments at his place. An unforgettable moment!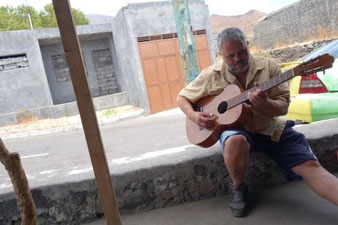 TIP: You can listen to Ramiro's voice in our video:
7. Have a walk through the history of Cabo Verde in Cidade Velha
Cidade Velha has been awarded by the status of Unesco World Heritage in 2009  and it is not difficult to see why. This oldest settlement in Cabo Verde has a very relaxed feel. Local people seem to be used to masses of tourists who arrive here on daily basis. The big attraction is walking around scattered ruins with the picturesque  Rua da Banana being probably the most photographed street in the archipelago. If you want to have a nice view of Cidade than head uphill to Fort Real do São Filipe. There are few cafes and restaurants in town where you can rest after the walk!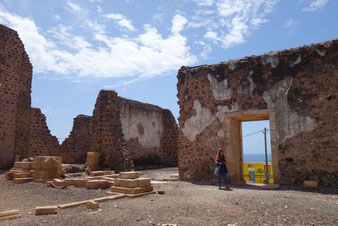 TIP: Allow yourself enough time as there are many ruins to see and they are spread over a large area.
8.   Spend some time at Assomada market!
Assomada is conveniently located between capital Praia and the sleepy beach town Tarrafal. It gets very busy on Wednesdays and Saturdays when people from neighbouring villages bring their fresh products and animals to be sold on one of the biggest markets in Santiago. Expect chaos and crowds of people everywhere! You can experience a palette of eye catching  colours, array of smells and shouting as people negotiate for the best price. Bring a shopping bag as you might be tempted to buy some fresh papayas, bananas or beautiful clothes imported from mainland Africa.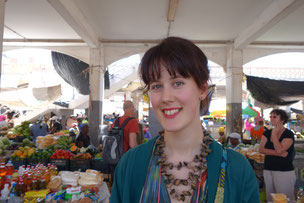 TIP: You could have a tasty and cheap lunch at the market from one of the many restaurants and eat as a local!
9. Hike valleys and mountains in São Nicolau
São Nicolau island is mostly frequented by keen hikers. Lovely trails, panoramas and a good accessibility to the highest mountain of the island Monte Gordo make this place an ideal choice for walking holidays. If you decide to wander around Ribeira Brava and walk up to the village Cachaço you will experience the warmth of local people who smile and greet you as you pace along the steep cobbled road. From the top of the village  you can enjoy a beautiful view of the valley and feel relieved that all the way back is downhill!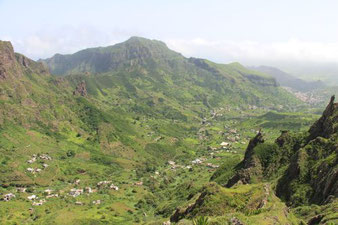 TIP: If you plan to go on one of the hikes go early as it gets very hot during the midday!
10. Be moved by a visit of Campo da Morta Lenta
Just outside the peaceful village of Tarrafal close to Chão Bom, a museum with an uninviting name is located: Slow Death Camp. Probably not an attractive place to visit considering what was going on here many years ago (torture, punishment, food deprivation just to name few). However, it is a good reminder of a history that has repeated itself far too often in far too many places. As you walk around you get an idea how it must have been to be imprisoned in the camp without any hope of ever leaving its confines alive.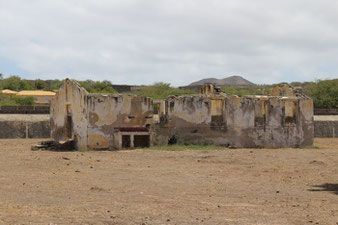 TIP: There is a small entry fee. Arrive early to avoid groups of tourists.
Links:
catamaran Maximus:  http://www.sailingmaximus.com/
FMB organization: Facebook: FMB - Fundação Maio Biodiversidade