Like in fairy tales the same applies to real life-there are some good stories often peppered with some not so good ones. But sometimes this ambiguity is not a bad thing and makes things more interesting and memorable in the long run as our stay in Sal confirms!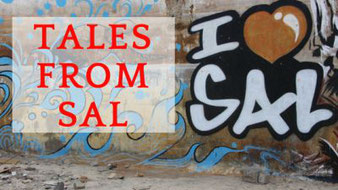 WELCOME BACK TO CABO VERDE!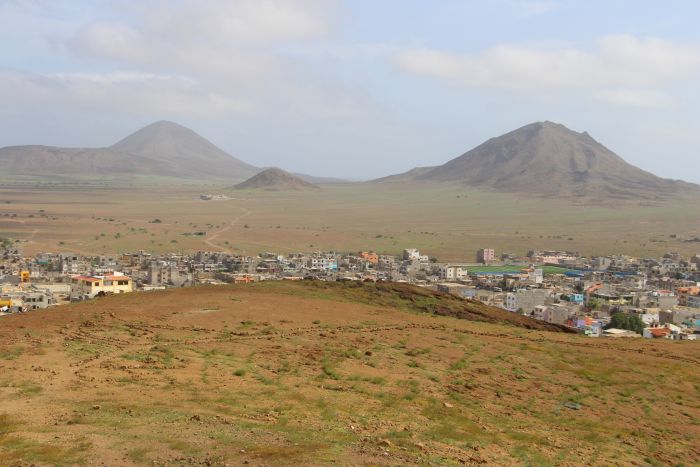 Our first night was spent in a sleepy town of Espargos  which is also the closest to the airport. Generally speaking, there is not much going on. However it's a convenient pit stop after a lengthy journey so you can get back on your feet and return to your energetic self (if that's possible in the sweltering heat). We chose our b&b on the internet and soon enough we were shown to our room in which the air was saturated from freshly painted walls (they must have painted it that day and finished just before our arrival). We politely declined and moved to another room through the corridor that looked like a busy building site and for sure it was as other rooms were undergoing the refurbishment as well. Our new room smelled better with one minor detail- there were no doors just a curtain to the bathroom and a toilet... All fine if you are not sharing your room with someone else which we did (each other). Welcome back to Cape Verde! Expect the unexpected! Mind you we had a good night even though the curtain fell loudly half way through the night. (Fortunately, earlier on during our exploration of the building we discovered a roof toilet and we resorted to using that one). The next day we were ready for Sal. (or were we?)
Disappointing Blue Eye and Floating in the Salina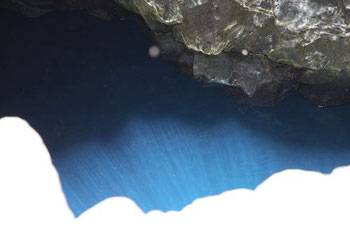 We had another full day to spare in the northern part of the island so we decided to use it to our advantage and go to all the places that are advertised on flashy touristy websites. After scanning the 'main' street' of Espargos for a suitable and trustworthy taxi driver we managed to get a deal and a ride to Burracona (Blue eye). A place that too often features in the brochures about sunny Sal. Apparently, it is also possible to dive in this spot if you are an advanced diver (we don't dive so we can't comment on this). For sure, the bright blue colour of the eye is stunning and the scenery itself is lovely but the place is frequented by bored looking tourist dying for something to do as there is not much else to do. The visit itself doesn't take more that 10-15 minutes and if you are lucky not to fall into a blue eye from an unsteady and crumbly rock that is overlooking it you are good to go. A bit of waste of money in our opinion. 
Maybe because of that reason we were a little bit more skeptical about Pedra de Lume or disused salt mines that are another big tourist lure of the island. We arrived late in the afternoon which turned out to be a good decision (less people). Once we paid and went through the tunnel the scenery has opened up to a massive looking crater dotted with individual small sized pools. It did look spectacular but also a little bit alien too. We made our way down to the pool that was already occupied by some fellow floaters. We weren't quite sure what the rules were or if we could swim in any pool so we went for the safest option. After all, there is safety in numbers. Once we braved it and jumped into the pool we knew at once that it will be difficult to get out! We floated  effortlessly in a big salty brownish looking pool for about an hour. What bliss! If you make your way here, don't be deterred by the look of the place (there are some derelict shacks and old machinery laying around). One can easily spend hours of doing basically nothing here. Which we happily did!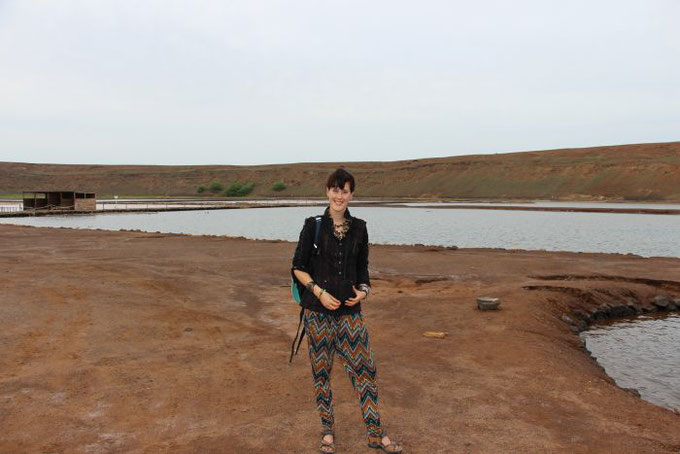 We managed to navigate our new taxi driver to our pre-booked  apartment in Santa Maria where we planned to stay for a few days. Seeing the beach and glittering seas after so many months that evening was a real feast for our eyes. We were going to have a good time here! Santa Maria beach reminded us of our favourite Praia Estoril beach in Boavista but on a much bigger scale!
When entering our room later that evening we glanced briefly at our neighbour's door when we suddenly recognized I., that we met six months ago on another island. That time we shared lunch in a busy market  and had a good chatter. What a coincidence! We were once again taken by a surprise by this ridiculous coincidence that so oftentimes happens in this archipelago! Our newly rekindled friendship, however,  didn't last long. During that night I. (in a drunken state) attempted several times to enter our neighbour's door and the worse was yet to come. In the morning, I went to get some water as Mia wasn't feeling good and as I was coming back  I saw a police car and two policemen running straight passed me to get upstairs. There was a lot of shouting and arguing going on and I. was in the center of it all (I was  still smiling oblivious to it all and acted naturally). It turned out that in those 10 minutes I was away I. kicked the door open and attacked his relative next door with a knife (Mia was still in shock when I arrived as she vividly heard everything that happened). After this episode we were both quite shaken and disillusioned knowing that our 'old friend' had some murderous tendencies running through his veins which we didn't know about. Not a holiday as you imagine! The least we could do was to go to the beach to recover from it all...
FINDING A HATCHERY IN THE DARK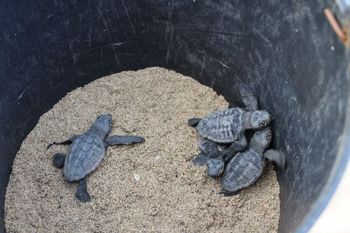 After we recovered from almost  'a murder next door' we made our way to the hatchery located close to the RIU hotel. We made some brief arrangement with Project Biodiversity about participating in one of their activities. We visited their hatchery first in the afternoon when they usually talk to groups of tourists about their project and sea turtles. We also managed to get to see the hatchery during the night which was another story all together! Arriving to the beach in the dark was already a little bit daunting but then passing through the area where RIU hotel was undergoing refurbishment and therefore without tourists was a little bit spooky. Some workers obviously stayed overnight in this massive complex and we could sense a little bit of an unfriendly vibe around here. Certainly a good setting for some Hollywood type horror stories. Fortunately, volunteers who are part of the project are much braver that us and stayed in the hatchery night after night protecting the future generation of turtles so they could make it safely back where they belong! Walking in a soft sand that night with buckets full of hatchings reminded us of our experience one year ago when we volunteered for another organization in Boavista and did exactly the same! Deja vu!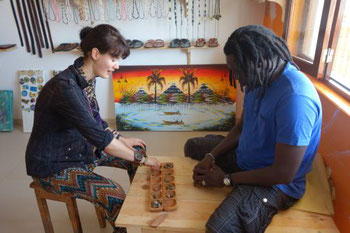 It has been a long time since we wanted to lay our hands on ouril game that everybody seems to play on all islands. And of course we secretly wished to film it as well. By some good fortune it was  Mr.Blue we met one morning who came to our rescue. Mr. Blue (who actually wore a pair of shiny blue shoes and a blue t-shirt) invited us to visit his shop in Mercado Municipal and to talk about the game and have a go at it as well.  Mia kindly volunteered to be the one as she had a quick lesson of the game in Maio previously. I can't remember it now but I think she won (again) and we managed to get some nice footage and make a new friend!
To sum it up, our time in Sal was quite challenging at times but we have also met some lovely people and enjoyed some swimming and floating in Santa Maria and Pedra de Lume but when the time came we were ready to depart for another island. This time we were going to explore the still unknown to us island of  Sao Nicolau!