Do you want to experience the calmness of a village life? Or are you looking for a stunning panorama view during a tough hike in the Ribeira towards Monte Gordo? Then Sao Nicolau is the place to go for you!  Obviously you have to bring the essential things that prepare you for both the breathtaking nature as well as for the amazing real Cabo Verdean culture. So what should you bring to be fully prepared to explore the island of Sao Nicolau?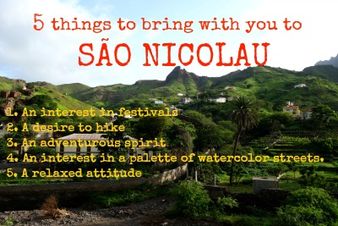 1.  An interest to join Cabo Verdean festivals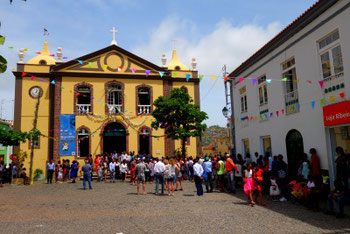 To understand the importance of traditions and the culture of Sao Nicolau better it is highly recommended to join one of the important festivals! Since there are not so many tourists that travel to this hidden gem, it is fairly easy to feel the unique vibe of this island.
 During Nossa Sra do Rosário, an important religious festival that takes place on the 1st Sunday in October in Vila da Ribeira Brava you will see the people dressed beautifully when they walk slowly on the cobbled streets from one of the smaller village to the bright yellow Cathedral on the main plaza, that is specially decorated for this day. For another unique festival experience, make sure that you are present in the Vila during the February Carnival that is held at the same time as the famous Sao Vicente Carnival. So bring your enthusiasm!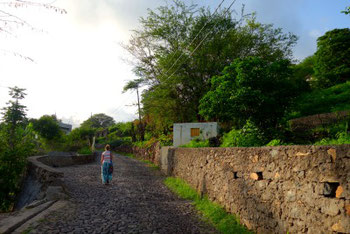 In Sao Nicolau, the number of trails that one can explore are diverse. Apart from the opportunity to immerse yourself in the charm and luxurious environment of the green Ribeira, walking on Sao Nicolau can be a spiritual experience since for most of the trail it will be just you and the magnificent views of the surrounding mountains. Most hikes will lead you through rural villages and this allows you to get more insight into the tranquil and traditional life of the people who live here!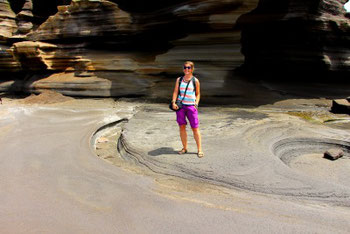 Leave your fear of heights and your anxiety for strong currents at home when you plan to visit… Carbeirinho! Yes this place, located close to Barril, is only suitable for the more adventurous souls. However, once you decide to take the 'risk' you will be rewarded by the sight of remarkable rock formations, listed as one of the seven wonders of Cabo Verde. Ask your taxi driver to stop here for a while when you are on your way to Tarrafal!
4.  An interest in a palette of watercolor streets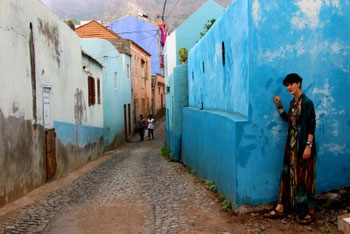 Take the chance to get lost in the collection of mysterious streets of Vila da Ribeira Brava that truly resemble a watercolor painting!
As you wander around in the Vila to discover what lies behind the next corner, you will see that each collection of cobbled streets represents a new neighborhood, with a personal atmosphere but still the same tranquility that is so characteristic for this island.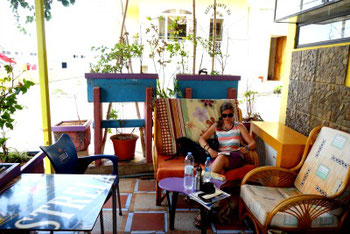 An island that radiates tranquility requires a change in attitude from its visitor; a change that is actually very pleasant when you accept it: a relaxed attitude!
On Sao Nicolau everything is more chilled out than on most of the other islands of Cabo Verde. One can easily talk to locals for instance. However, this laid back setting can also become a bit frustrating at times when it is impossible to find a spot with internet connection. Whether or not your plane will depart on time to a neighboring island by plane on your scheduled day can also be a matter of luck. The advice is to be patient when unsure whether your flight is just delayed or cancelled…with a relaxed attitude this temporary insecurity is much easier to deal with!
Sources of information:
Dominicus travel guide Cape Verde. Author: Guido Derksen.
Bradt Guide Cape Verde
Guia Turistico Cabo Verde 2016 (www.guiadecaboverde.cv)