'Bom dia. Tudo bem?' I must have said good morning, is everything  ok about 50 times while I sweated profusely on my way up the Ribeira  to Cachaço. Maybe it wasn't the greatest idea to start walking  in the heat of the day! But then I was hoping that a  little reward would be a beautiful view overlooking the green valley….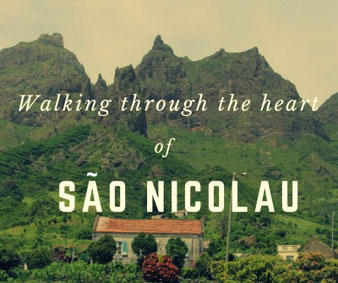 I felt little bit under dressed in my loose salty t-shirt and my not so attractive hiking shorts when I was passing all immaculately  dressed locals ready for Sunday service at the church of Ribeira. Apparently, it was supposed to be one of the most celebrated religious ceremonies on the island-Nossa Senhora do Rosário.
Mia decided to experience a local service and already made her way to a local church battling among the masses of people to get some decent place to see the ceremony.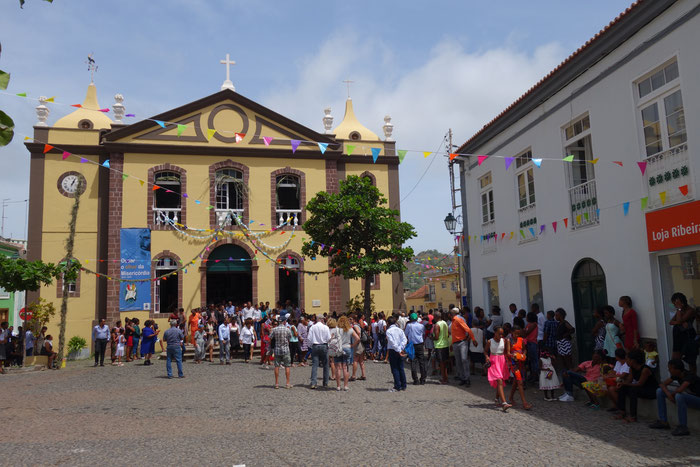 I, on the other hand opted for a leisure stroll through the valley that would take me to the village Cachaço with it's small church positioned on the top of the hill.  Easy peasy-around 2 hours long walk steadily uphill and then going back.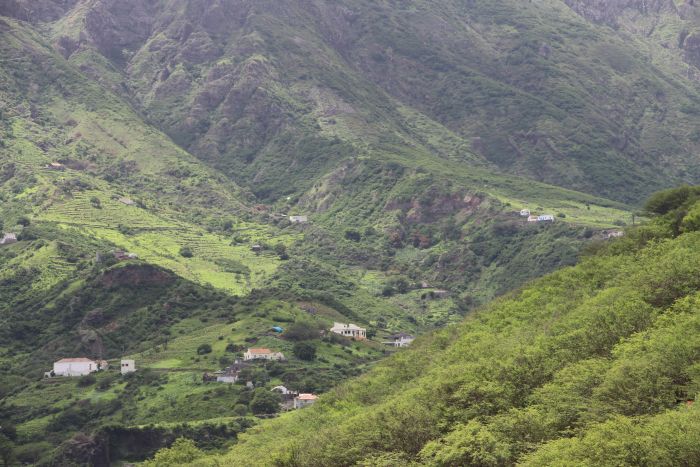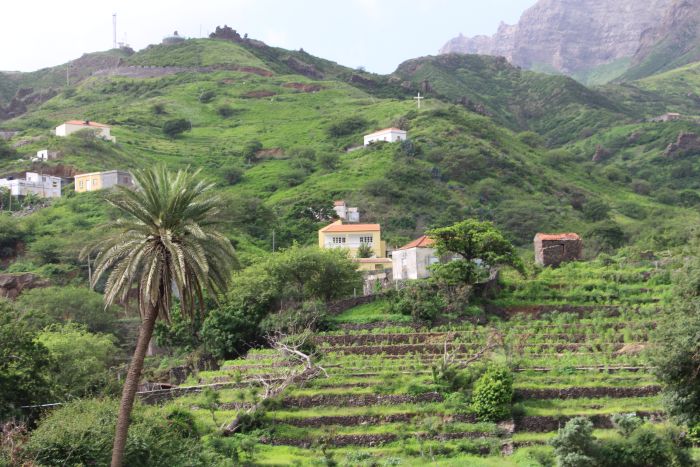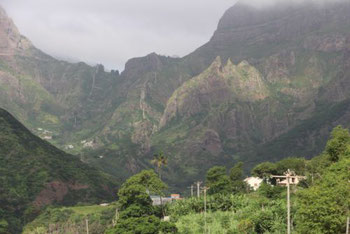 I must say I do enjoy lone walks as they clear my head as nothing else does and also have some element of spirituality. Steady pace, regular breathing and just your own head after all are great tools of self meditation. However, what I didn't accounted for was a vast number of people living on the edges of villa that make their means by agriculture and taking care of few goats and chicken. My little walk exposed me to  great nature of men and women I met along who greeted me with a bit of curiosity and happy smirk on their face as to acknowledge that they too enjoy walking but probably more out of necessity than as a pastime activity. Some men even patted me on my shoulder and children smiled as I looked around trying to absorb the beautiful mountainous scenery of this green island that was already so eye catching from the small window of a propeller plane when we were landing. This island is not surprisingly called small Santo Antão as hills have a similar look of its bigger brother of the most westernmost island.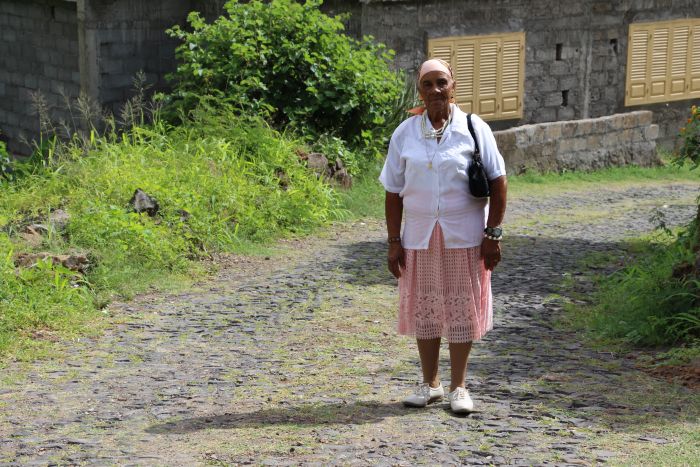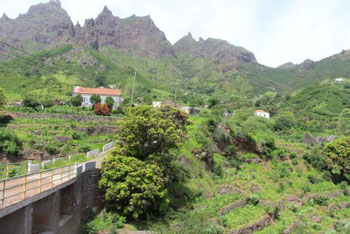 I felt mentally refreshed, at ease and full of positivity knowing that this place is so peaceful and welcoming unlike some little pockets of mixed curiosity and fear  thankfully infrequently found on some other islands. The last stretch to the top of the village was the worst, steep serpents, I often took a break and drank as much as I could, after all I just recovered from a bout of an unpleasant stomach sickness that cost me a full day of exploration as I stayed put in bed instead. Fortunately for us, owners of a guest house we stayed in were very understanding and accommodating to our rather weird regular evening  order of their really delicious vegetable soup. They must have thought we are European soup addicts trying to eat as much as we can in a day. On the other hand we also thought they were secretly pleased by our loyalty and love for the delicious remedy soup that I must say made us feel much more better.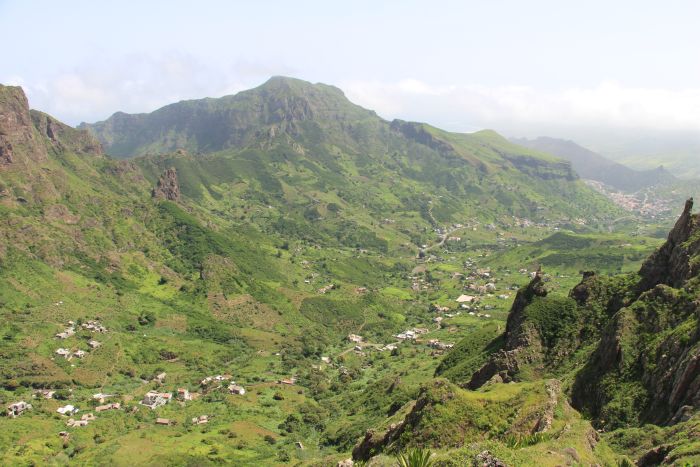 I finally reached Cachaço village and was taken aback by the view of a distant Vila I left behind earlier- hidden somewhere in the haze with little individual houses scattered on the foot of the hill. I couldn't believe that some people walk for about two hours in their best clothes just to get down to the church. I didn't stay too long at the top but at least I could see the well known dragon tree and Monte Gordo, somehow an icon of the island and the biggest hiking attraction of the island. Few tourist who make their way here to purposely just to go there. We missed the opportunity of climbing to the top and instead spent numerous hours in the small plaza of the Vila, just eating our slice of a cake or pizza on the square or trying for hours to connect to a very bad wifi on a square. After few days we found out the best spot for it and actually managed to log into our emails. These days it is almost impossible to unplug yourself anywhere on this planet….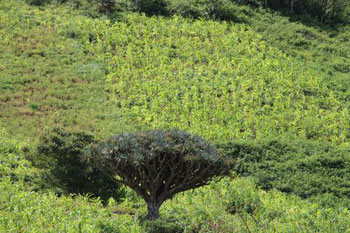 This side of the island seemed to be more friendly than the other side we visited couple of days later. Spending a night in an incredibly hot village of Tarrafal turned out to be a little bit of a nightmare. Maybe living on the green side makes life much more easier. Here, there was nothing to do and we were bored to a maximum  by the time we were picked up by our taxi driver an brought back to our accommodation. The bonus of the trip was a visit of a Carbeirinho or a rather interesting rock formation in the north west part of the island.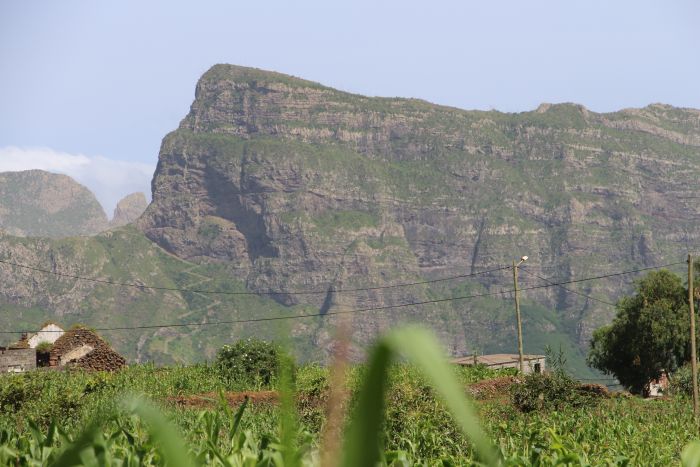 I don't think one can rush  a visit on Sao Nicolau. Getting here with infrequent and unreliable flights is already bit of a challenge. And of course many people come to Sao Nicolau just to tick another mountain off their list but if you stay long enough and forget all the hassle back home your visit will become more meaningful.  One thing is for sure, if you make your way here your heart will soon open up to the friendliness and warmth of its unique local people….