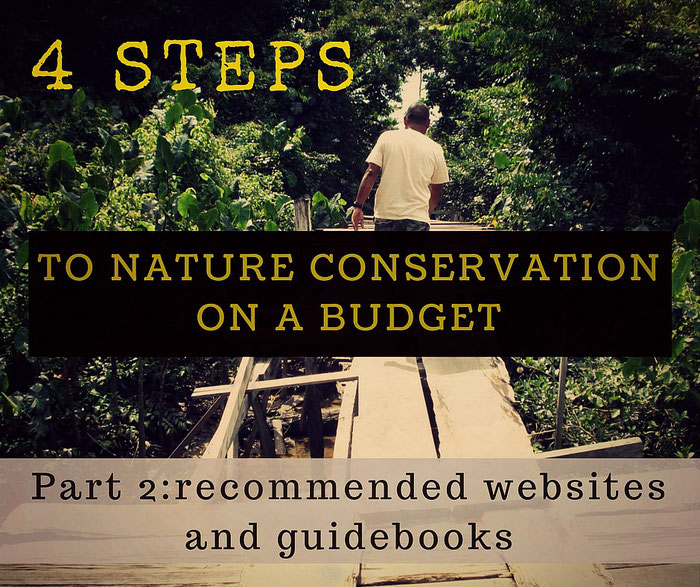 ---
"We do not inherit the earth from our ancestors, we borrow it from our children." » Native American Proverb
---
In part II of this blogpost we want to first share with you a couple of general websites, guidebooks, blogs and a TEDtalk that can make a good starting point for future volunteers and travellers. The next section incorporates lists of projects targeted for a specific continent and projects that are currently operating in this area of the world.
We are aware that these sources are by no means complete so feel free to send us your suggestions and we will gradually expand the information in this post! 
STEP 1: BROWSE GENERAL WEBSITES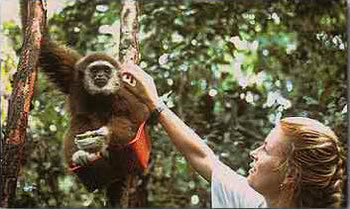 The World Guide and Database for Volunteer Work In Nature Conservation.
This website is a database of small-scale, non-profit organisations
(390 projects in total).
To get access to the online database you pay a fee of £4. There is also a guidebook that you can order online which costs £4 as well. This guidebook can be seen as an addition to the online database as it provides more detailed information about the projects, an introduction and tips on how to increase your chances of being accepted as a volunteer on the project of your preference. 
Both the book and the website of Green Volunteers provide an excellent information for nature conservationists on a tight budget that are looking for interesting projects. The projects are currently listed by species and contain projects in terrestrial biology (e.g. birds, primates) and in marine biology (e.g. coral reefs, whales/dolphins, sharks).
The concept of this website is similar to that of Green Volunteer and you may find that a couple of the organisations are mentioned on both websites. The Ecoteer website provides you with a list of organisations that you can use to find your perfect volunteer placement abroad. To get insight into the range of available projects, you first have to become an Ecoteer Member and register (£4 each year) or you can buy a lifetime membership for £25. 
Accommodation and food are generally covered within a small fee. Perfect for the nature conservationist on a budget! The different types of projects are listed within the following categories: Ecotourism, Conservation, Teaching, Humanitarian, Research, Farming.
The concept of this website is to connect aspiring volunteers with local hosts that are looking for a helping hand on their farm, guesthouse, hostel or the development of an eco-project! Since the cooperation between the host and the volunteer is beneficial to both parties involved, volunteering with Workaway is usually free of charge! This exchange opportunity is ideal for people that possess of specific skills and want to contribute to a project. In return, they can stay with a welcoming and friendly host and experience what it is like to participate in a unique and refreshing project!
Workaway is also a really good option for language learners that want to immerse themselves in a new environment and interact with the local people in their preferred language at the same time!
---
Similar to the organisations mentioned previously, this website is a guide for nature conservationists. It lists budget-projects (projects for free or at reasonable cost) with a focus on volunteering in Africa. The lifetime membership fee is £9.99. 
From our own experience: this website contains an incredible collection of projects; some of them volunteer-oriented whereas others ask for Master or PhD students. The good thing about this website is that you can search by for instance the cost of the project, the area within Africa you are interested in and duration of the project (less than three months or three months and longer).
---
This website is a collection of free volunteer programs and low-cost volunteer opportunities in both Central and South America. There is a great variety of projects to choose from!
Even more important is the fact that these small scale projects with usually great aims focus on both improving both the conditions of the local people as well as to conserve and protect nature! 
There's a link on this site to the the blogpost 'How to ethically volunteer anywhere in the world' mentioned further. 
Similar to the above, a very informative source for free and low-cost volunteer abroad programs throughout Central and South America! 
This is an organisation with clear aims, focused on ethically volunteering and a great variety of projects! They publicise the work of various grassroots voluntary organisations and projects that rarely receive international attention.  Next to this, they offer work abroad for field biologists or research assistants. All in-country expenses are covered (accommodation, food, local transportation).
To get access to the full content of the site you can choose between a basic membership (a small fee of £9) and a premium membership. The last one adds personal guidance and support from Volunteer Latin America. 
---
"We have forgotten how to be good guests, how to walk lightly on the earth as its other creatures do." » Barbara Ward
---
STEP 2: GET BOOKS ABOUT VOLUNTEERING
1. Wildlife & Conservation Volunteering: The Complete Guide Bradt Travel Guide; By Peter Lynch (Author)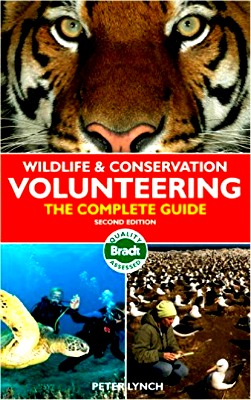 A great guide in the Bradt Travel series dedicated to wildlife conservation solely!
This book is a must for an aspiring nature conservationist. It provides extensive background information on how to choose your project wisely.
You can choose your project by: species, country, and it even provides 1-2 pages with a list of free projects (Link: Amazon.com)
At www.bradtguides.com wildlife guides are available that cover a range of species!
2. Green Volunteers: The World Guide to Voluntary Work in Nature Conservation.
By Fabio Ausenda (Author)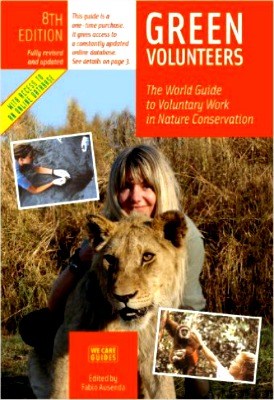 This is an informative pocket guidebook for volunteers interested in Nature Conservation.
An extension of the Green Volunteers website. 
Most projects are run by small grassroots organisations that don't have the money for advertisement. You can find any voluntary project you are looking for in this guidebook, whether you are interested in working with animals, setting up an ecotourism project or help out at a WWOOF farm! A great read and reference work for the volunteer on a budget!
(Link: Amazon.com)
Dan Pallotta: The way we think about charity is dead wrong (TED 2013)
This TED talk provides you with a different view on the non-profit sector and the way that it usually works. Dan Palotta states that the non-profit sector can play a massive role in changing the world in we can have a generosity of thought, a different perspective on how we currently think about how non-for profit organizations should spend their money. 

The most important thought that Dan Palotta wants to share is that the things that we have been tought to think about giving and about charity and about the non-profit sector are actually undermining the causes we love and our dream to change the world.
He says that the non-profit sector has to be given a serious role to play if we really want a world that works for everyone. But why doesn't it seem to be working?
According to Palotta, our current belief system discriminates against the for-profit sector in five different areas:
1. Compensation
In the for-profit sector: the more value you produce, the more money you can make. But we don't like non-profit to use money to incentivize people to produce more in social services. We have a visceral reaction to the idea that anyone would make very much money helping other people. 
2. Advertising and marketing
The for-profit sector spends a lot of money on advertisement. But we don't like our donation to be spend on advertising in charity. 
3. Tasking risk on new revenue ideas
Non-profits are really reluctant to attempt any brave, daring, giant-scale new fundraising endeavor because they fear that if anything fails, their reputation is being dragged through the mud.
4. Time
Investors are generous with time if businesses need years to build market domains without returning any profit. However, when it comes to a non-profit organization, they are far less patient if this organization requires time to build scale if this means that no money is going to go the needy during this time.
5. Profit to attract risk capital
The for-profit sector can pay people profits in order to attract the capital for their new ideas but you can't pay profits in a non-profit sector.
All of these factors puts the non-profit sector at an extreme disadvantage to the profit sector on every level.
Dan Palotta challenges the question: "What percentage of my donation goes to the cause versus overhead?" This question leads to the belief that overhead is a negative and somehow not part of the cause. This, in turn, leads to the second and much larger problem: it forces organizations to go without the overhead things they really need to grow, in the interest of keeping overhead low.
Palotta makes an interesting point here because we do tend to focus to much on how much of the money we spend on a conservation project actually goes directly to the project! 
You can watch this TEDtalk  using the following link to the TED.com website!
---
'The next time you're looking at a charity, don't ask about the rate of their overhead. Instead ask about the scale of their dreams, how they measure their progress towards those dreams, and what resources they need to make them come true. Regardless of what the overhead is. Who cares what the overhead is if these problems are actually getting solved? '  - Dan Palotta
---
STEP 4: SEARCH FOR RELEVANT BLOGS
---
"To be whole. To be complete. Wildness reminds us what it means to be human, what we are connected to rather than what we are separate from."
» Terry Tempest Williams
---
Consult part I of the blogpost  '4 STEPS TO NATURE CONSERVATION ON A BUDGET' for 4 steps on how to find a nature conservation project as a passionate conservationist without having to spend a fortune on it!