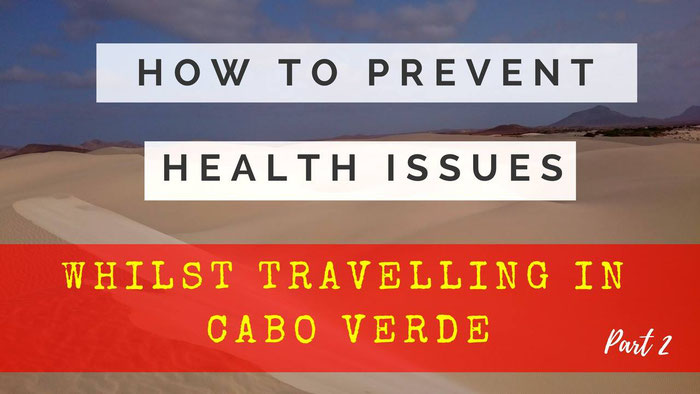 Part II: Practical information on how to stay safe in Cabo Verde
---
"Life is either a daring adventure or nothing." - Helen Keller
---
Hiking in Cabo Verde
Cabo Verde is an excellent destination for hikers. The variety in landscapes is breath-taking. Well-known for its great hiking options are Santo Antão, Fogo, Santiago and to a lesser extent São Nicolau, which is not as famous as Santo Antão. So how do you prepare yourself for a hike?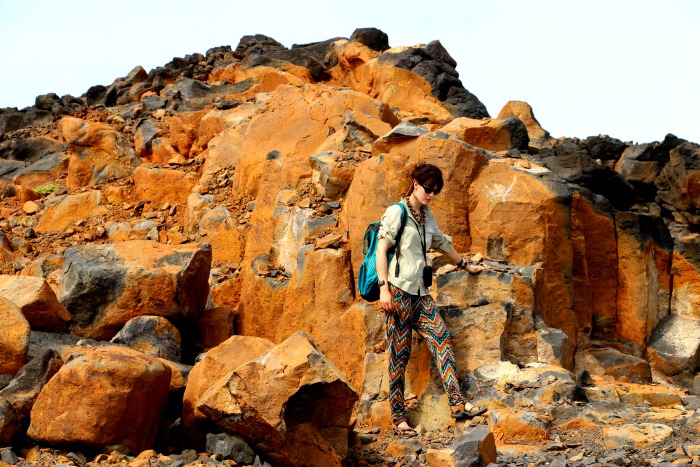 Find an experienced local tour guide
The first step is to find a tourguide, preferably someone that is from the island and that knows the area well. If we think about it, we never 'look' for a tour guide, but we miraculously meet them on the streets on when we are having a coffee in a local cafe. Works usually even better!
Hiking on Santo Antão
On Santo Antão, we met the local tour guide Edson Lima Lima. He offers a variety of tours that show you the beauty of this island. He is a very friendly guide and speaks English well.
Check the weather forecast before you go (mist, rain e.g), in particular during the the rainy season when there can be a thick mist. The track can become slippery and approaching mist will prevent you from seeing where you are going. Always go with a tour guide because it is easy to leave the path in some of Santo Antão's ribeiras.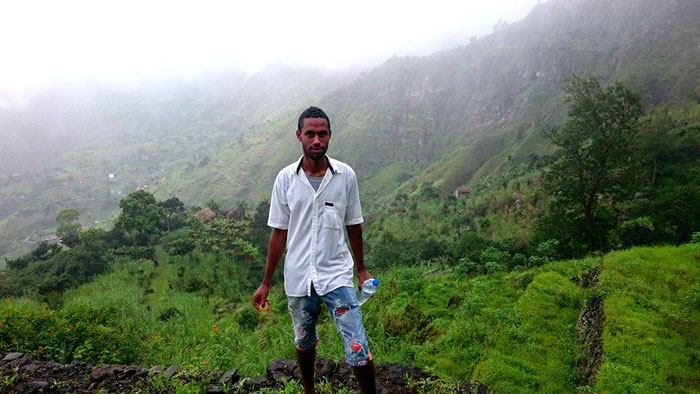 IWA would like to thank our lovely tour guide Edson taking us to Cova de Paul! 
Hiking on Fogo
On Fogo, we met with tour guide Fabio Jr. Gonçalves Dias, born and raised in Chã das Caldeira. He is a certified guide for all Cape Verde Islands. Because we only stayed on Fogo for a couple of days, we didn't have time to go on a trip with Fabio. However, he introduced us to his friend Jose who is a fantastic taxi driver.  
Hiking on Sao Nicolau
On Sao Nicolau, most hikes will lead you through rural villages and this allows you to get more insight into the tranquil and traditional life of the people who live here.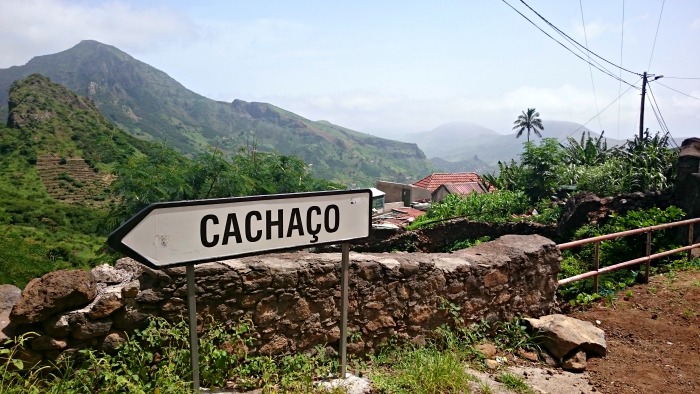 General advice: how to get ready for a hike
- Bring a jumper
When you plan to go for a walk in the Fogo crater and on Santo Antão's peaks, bring a jumper with you because it can get cold.
- Wear long trousers to avoid cuts and grazes
- Bring a rainjacket
Don't even try to go to Santo Antao without a rain jacket!
The climate is moist and it rains quite often, so certainly bring one. Mainly during the rainy season (between the months of August and October) one can't do without! 
- Wear proper hiking shoes 
To avoid walking accidents, make it a habit to wear strong hiking boots with ankle support for hiking on various trails. This is essential! The Cabo Verdean terrain - harde soil with tiny bits of grid and mini landslides is challenging to walk on, even for experienced hikers. When you see the steep and slippery paths, you understand why sandals alone would not have been sufficient…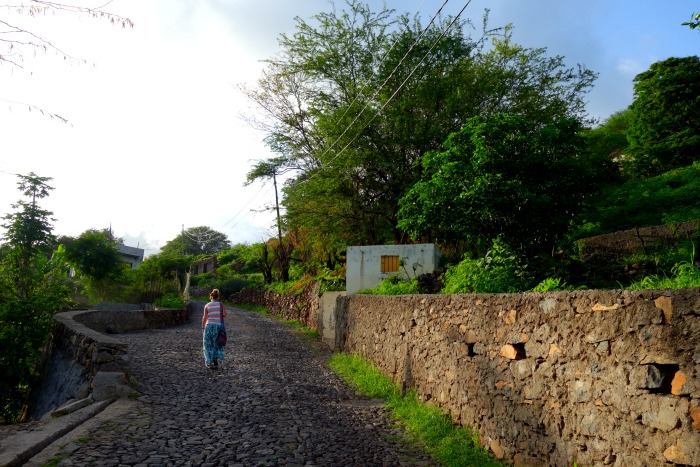 - Bring plenty of water 
Drink plenty of water the night before and early in the morning before you go, so you will be well-hydrated to start with. Then make sure you bring two  litres of water for a full day away.
- Bring food
Fruit makes a great snack: it is easy to carry and it helps your body to keep a stable blood glucose level. 
- Use a high-factor suncreen regularly to protect yourself from the sun. Wear a hat/scarf and sunglasses to block most sunlight from reaching your face. Stay in the shade during the heat of the day.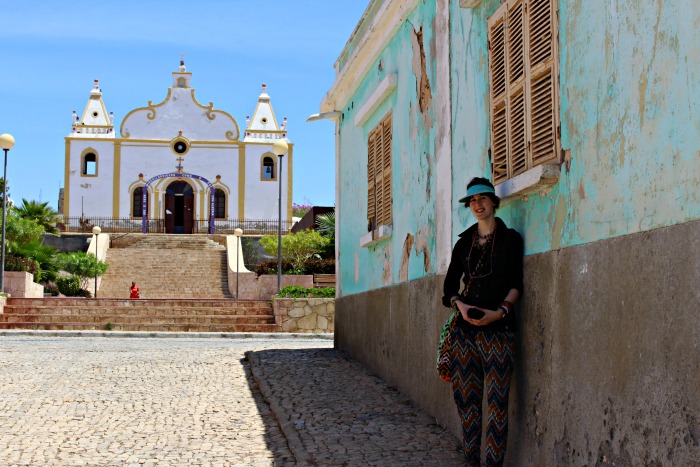 - Plan your road before you set off 
Be prepared: plan your route and take the map with you so that you know which villages to ask for along the way.
- Let someone know where you are going and when you are planning to be back
Usually you will meet local people during your hike, but some hikes can be in deserted areas. That's why it is advisable to tell someone about your plans: where exactly are you planning to go and when do you expect to be back. Carry a mobile phone with a local sim card for emergency situations. 
Hiking in São Nicolau means being surrounded by lush green vegetation wherever you go!
The village of Juncalinho in São Nicolau.
---
Public transport in Cabo Verde
Public transport in Cabo Verde
Public transport in Cabo Verde is readily available but using it can be challenging! 
During our three visits to the archipelago we have traveled the different islands by means of public transport. Basically, there are two options available as an independent traveller, either an aluguer or a taxi. 
 Taxi or aluguer
Aluguer
An aluguer is the most popular form of transport. In this vehicle there is room for 15-20 people. 
Pro's: a good option for the budget traveller because the price is much lower than a taxi. You pay around 200-300 escudos (2-3 euro's) for a one way ticket.
Con's: most of the time the vehicle is fully packed with people and the drivers is usually not very concerned about a speed limit. 
Taxi's
Taxi's are easy to find around the bigger cities but not so common in more rural vilages. Make sure that you agree on the price beforehand!
Pro's: you are more in control of the situation on the road. Con's: it is more expensive. A taxi ride for two people for one hour will easily cost you around 25 pounds.
It is interesting to ask your driver if it is possible to hire him for a morning/afternoon or even a day-couple of days. Most likely your driver will pay more attention to your needs whilst on the road, such as regular stops, driving in an enjoyable manner and perhaps even Funana music on the radio!
Of course it is wise to consider the situation on every island individually and then decide what kind of transport fits you the best. Some islands are more rugged and mountaineous than others, such as Santiago, Fogo and Santao Antao. These islands are characterised by their stunning (vulcanic) scenery, but also by steep cliffs and hairpin bends. Therefore we would recommend  a taxi instead of aluguer when you have the choice. This holds especially for the rainy season: damage caused by rains is not always repaired right away and the rain can make the roads slippery...something you want to avoid when you are high up in the mountains. 
That said, even on the islands that are flatter, we normally also use taxi more than aluguer. I guess drivers believe that they can speed up when the road is better but at least with a taxi you can tell the driver to slow down; this is not an option in a crowded aluguer.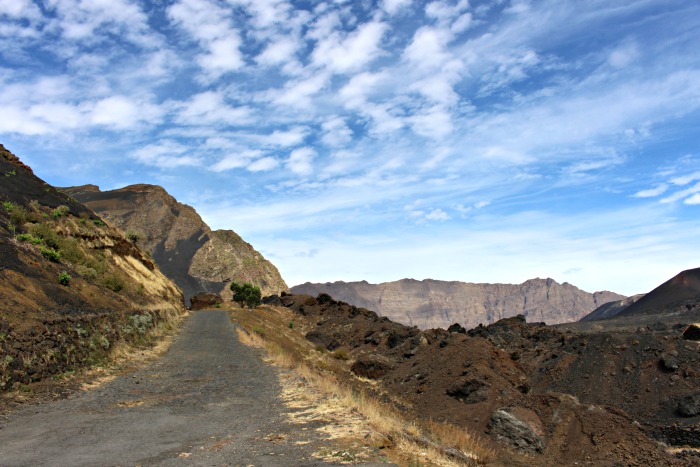 Select your driver carefully
Another thing to keep in mind is to be selective when you choose your taxi driver in the first place. So how do you do this? 
1. Observe the available drivers 
When you are looking for a cab, take time to really observe the different taxi-drivers that try to find new clients. If you are in a hurry and lack the time for this, just make sure to choose an individual taxi driver, instead of one that has got a friend sitting beside him in the front seat. The reason behind this is when the driver is chatting to his friend during the ride, he will automatically pay less attention to the road and he will drive faster, which is something that you want to prevent!
Usually, Lia and I choose taxi drivers that are more mature. Personally I can say that we have got good experiences with older drivers who present themselves in a calm and friendly way when we approach them on the street.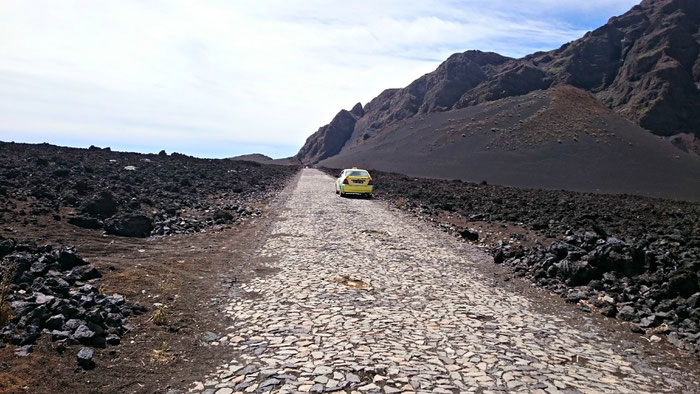 2. Tell your driver upfront that you prefer that he drives slowly
When you do find yourself a driver that seems trustworthy/reliable, do not hesitate to tell him that you want him to slow down. 'mas despacio (por favor)' will do the trick.
3. Have regular breaks 
It is a good idea stop every couple of hours for a coffee or lunch-break so your driver can relax for a moment. This is what we did in Fogo for instance. During a short break with our taxi driver Jose, we enjoyed a delicious Fogo coffee, combined with a fresh goat cheese whilst the lovely and very talented Ramiro was singing for us!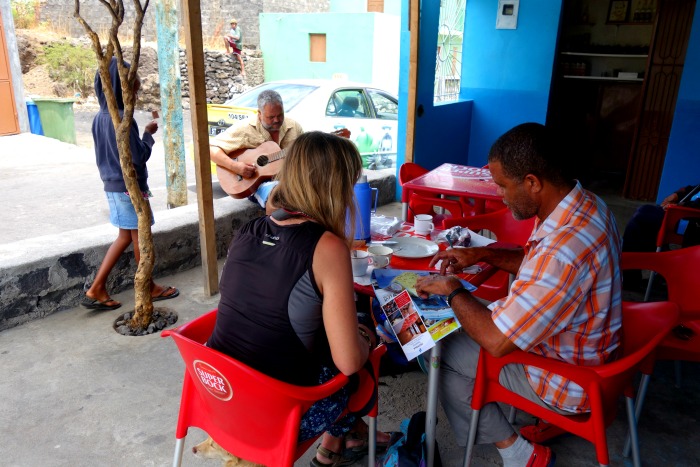 Finding an aluguer for a good price can be a challenge!
High up in the mountains of Santo Antao, we discovered for ourselves the pros and cons of going by aluguer instead of taking a taxi..
---
Animals in Cabo Verde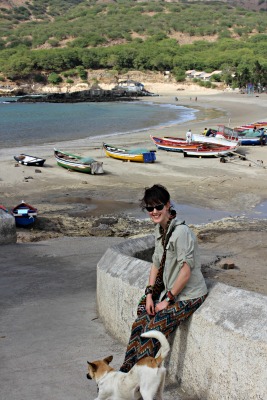 Dogs in Cabo Verde
On the archipelago there are a lot of village dogs that don't have an owner.
This means that if you are fond of dogs, you can encounter a friendly dog on every corner of the street. 
There's a downside too,  at night the street dogs fight a lot.
For this reason our advice is to be careful when you walk alone in small streets at night at some dogs can get quite defensive and agressive when they try to protect their territory! 
Being accompanied by a friendly dog on a beach in Maio makes the experience even more special!
Presenting for IWA requires flexibility and improvisation, especially when there's dogs around!
---
Boat trips in Cabo Verde
Boats trips: Catamaran sailing and whale watching
When you visit Boavista, Sal or Maio, it can be good fun to go on a fishing or a sailing trip so you can see the spectacular scenery of the islands from a boat and also this is the perfect opportunity to learn more about the marine wildlife in Cabo Verde and catch your own Garoupa for dinner!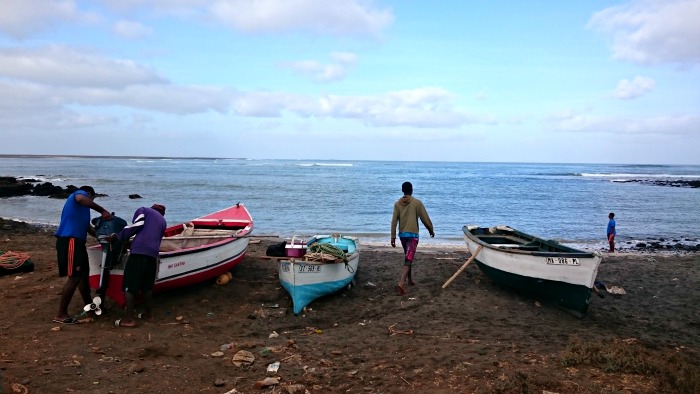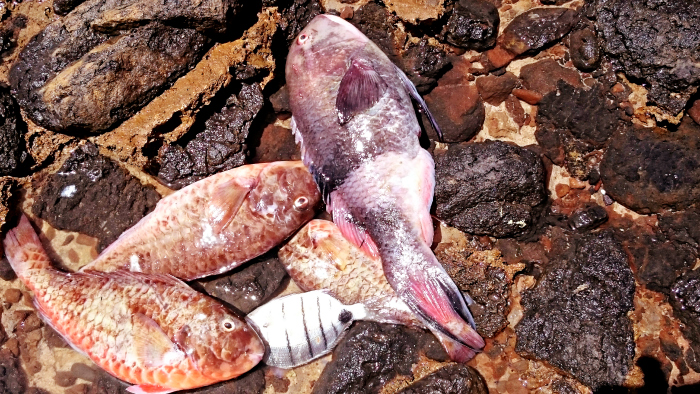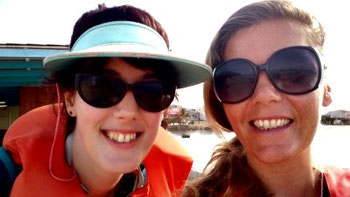 We joined the Maximus Catamaran for a whale watching trip in Boavista. Make sure you always carry motion-sickness tablets and on a boat.
When you do feel sick, stay above deck and look at the horizon. 
Below a picture of one of the stunning beaches of Maio islands. Fishermen use these colorful boats to catch a variety of fish.
Boat trips for research purposes in Cabo Verde 
During our visit of Maio in March 2016, we asked the Fundação Maio
Biodiversidade (FMB) researchers to participate in one of their research surveys. However, we were not wearing life-jackets and we were a little concerned of the big waves that were approaching our boat.. Always make sure you know how to swim (well!) and ask for a life jacket.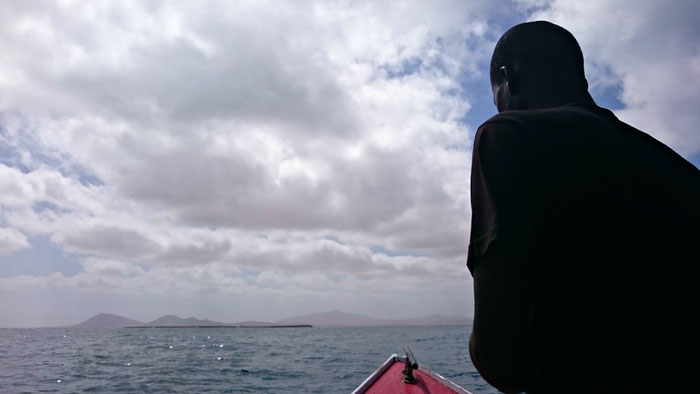 At the harbour of Mindelo, ready to embark on the boat, ready for a new adventure in Santo Antao!
During a research trip by boat with the researchers of the Maio Biodiversity Foundation we were uncertain about the high waves in the distance...
---
Sources of information
Bradt Guidebook Cape Verde
Bradt Guidebook Wildlife & Conservation Volunteering – The complete guide
Dominicus Kaapverdie (in Dutch)
The Rough Guide to First-Time around the world 
Please also check the following websites for informative and useful information about Cabo Verde!
Hiking on Santo Antão with LIMA Tours: 
https://www.facebook.com/LIMA-TOURS-1006440339445226/
Tour agent in Ribeira Grande, Cape Verde (trekking,hiking and excursions around the island) . Email: edsondal@live.com.pt
Tour guide on Fogo:
http://www.caboverde.com/pages/521507.htm