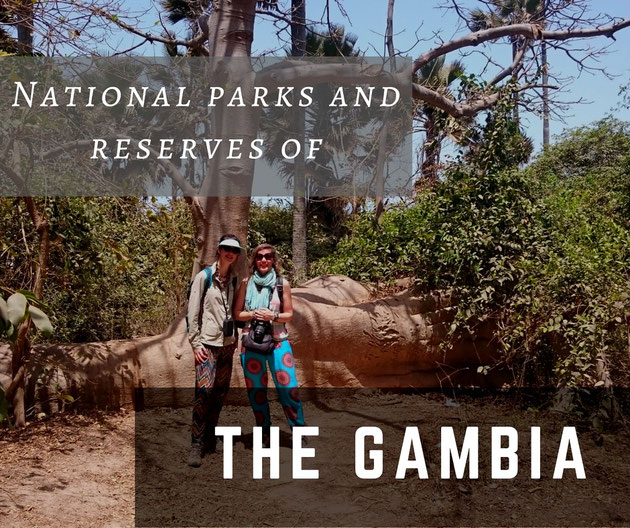 The Gambia might be the smallest country on the African continent but is full of wildlife and features, an array of national parks, forest parks, reserves, a community wildlife reserve (Bolong Fenyo) or privately managed eco reserves (Brufut Woods Community Project, Tumani Tenda, Bama Kuno forest park, Pirang forest National park and Kunkilling forest park).
The Wildlife Act of 1977 and the Biodiversity/Wildlife Act 2003 established the Department of Parks and Wildlife Management (DWPM), instituting the department as the chief agency responsible for the "conservation, management and development" of The Gambia's wildlife resource. The main vision of DWMP is to research, manage and conserve remaining fauna and flora in a rational manner and to yield benefits (ecological, cultural, scientific and economic) to The Gambia in particular to to the communities surrounding protected areas. 
We had a chance to visit few of parks and reserves such as  Abuko nature reserve, The River Gambia National Park, Makasutu culture forest and Bijilo Forest Park & Nature Trail (Monkey Park) and all of them captivated us in a different way and certainly are great places to see and experience nature of The Gambia!
---
LIST OF NATIONAL PARKS AND RESERVES OF THE GAMBIA
*ABUKO NATURE RESERVE (1916)
*RIVER GAMBIA NATIONAL PARK (1978)
*NIUMI NATIONAL PARK (1986)
*KIANG WEST NATIONAL PARK (1987) 
*TANJI KARINTI BIRD RESERVE (1993)
*BAOBOLON WILDLIFE RESERVE- (1996) (Ramsar site)
*TANJI WETLAND RESERVE (2001)
---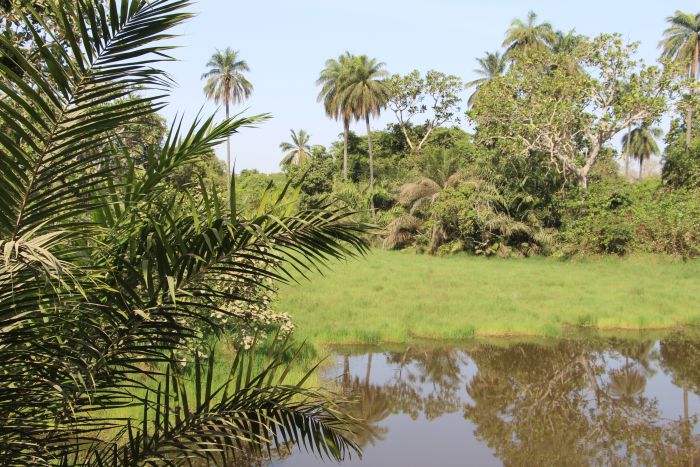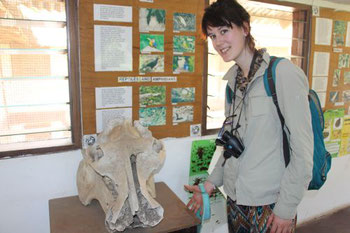 The Abuko Nature Reserve has been protected as a water catchment area since 1916. It was officially declared a Nature Reserve in 1968. Located close to Brikama it is very easy to visit; it can fit in any day tour.
The reserve is open from 6.30 until 18.00 for the visitors and you have to pay a small fee. The entrance is a little bit unassuming and could do with a bit of refurbishment but once you are inside you are engulfed by rich vegetation of savannah and gallery forest with palm oils or mahogany trees. The path will take you to Darwin research station where you can learn more about the wildlife of the reserve and The Gambia. If you are lucky you can spot some of the birds and also Nile crocodiles (Crocodylus niloticus)  that reside in the pool (we didn't see any). It might be a good idea to have a guide with you to take you around and show you different species of birds. There have been recorded around 270 species of birds in the reserve! Some notable species include Green-crested Turaco (Tauraco persa), little Green Bulbul (Andropadus importunus ) and the African Grey Hornbill (Tockus nasutus).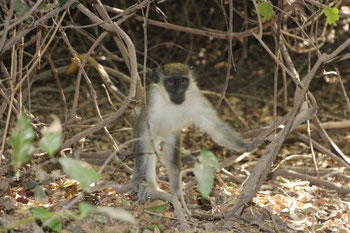 Four species of primate occur in the reserve: Western red colobus (Procolobus badius), green or vervet monkey (Chlorocebus pygerythrus), Patas Monkey (Erythrocebus patas) and the Bushbaby (Galago senegalensis). Other mammals present include sitatunga (Tragelaphus spekii), bushbuck (Tragelaphus sylvaticus), Grimms duiker (Sylvicapra grimmia), Gambian sun-squirrel (Heliosciurus gambianus), striped ground squirrel (Lariscus insignis), African crested and brush-tailed porcupine (Atherurus africanus), and a variety of rodents.
In the middle of the reserve is an animal orphanage with some caged spotted hyenas (Crocuta crocuta) which can be a bit of a disturbing view if you don't like seeing animals behind bars. At the time of our visit there were some baboons as well but apparently once they get better they will be released back in the wild.
The Hooded Vulture (Necrosyrtes monachus) is a common species to see in the reserve. An impressive bird!
THE RIVER GAMBIA NATIONAL PARK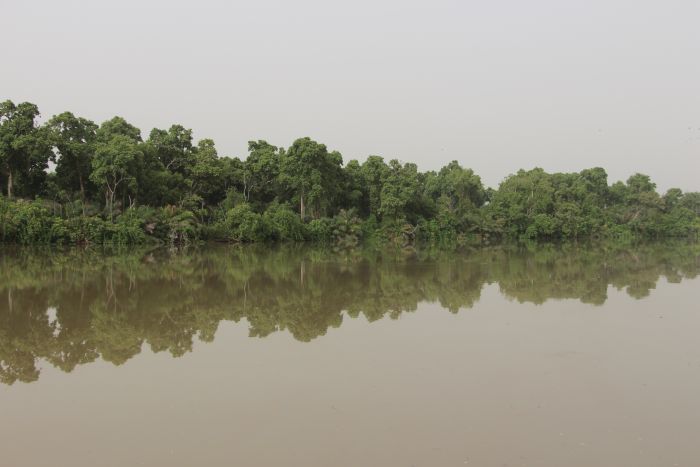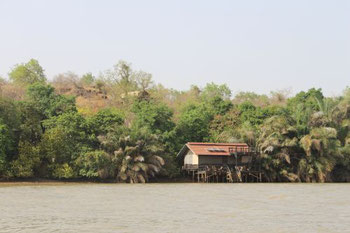 The River Gambia National Park was established in 1978 and is also known as  Baboon Island. It is a complex of five Islands (total area 585 ha). All islands are quite flat with mainly gallery forest and some open swampy or savannah areas. The park is situated in Central River Division (CRD) about 300 km by road from Banjul. It takes about 6 hours by car to arrive .
The Park is a home to the Chimpanzee Rehabilitation project (CRP) which we had a chance to visit for couple of days. Visitors are welcome from Thursday until Sunday and can join a boat trip that takes you around the islands to see the chimpanzees (Pan troglodytes) (only from the boat). CRP began informally in 1969 in order to rehabilitate orphaned and confiscated chimps. There is just little about 100 chimpanzees living in 4 social groups on 3 islands. Unfortunately, the chimpanzee has been extinct in the wild in the Gambia since 1900's and Baboon islands give visitor a chance how it might have looked in Gambia many years ago.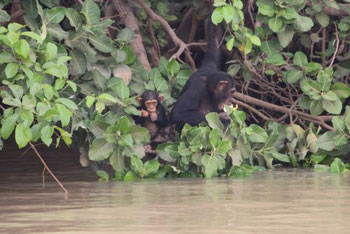 Other notable primates are the Western baboon (Papio papio), green vervet and red colobus. The Upper region of the River Gambia is also a home to hippopotamus 
(Hippopotamus amphibius), Nile crocodile, manatee (Trichechus senegalensis) and monitor lizard (Varanus albigularis). There is also an abundance of bird species- around 240 have been recorded here.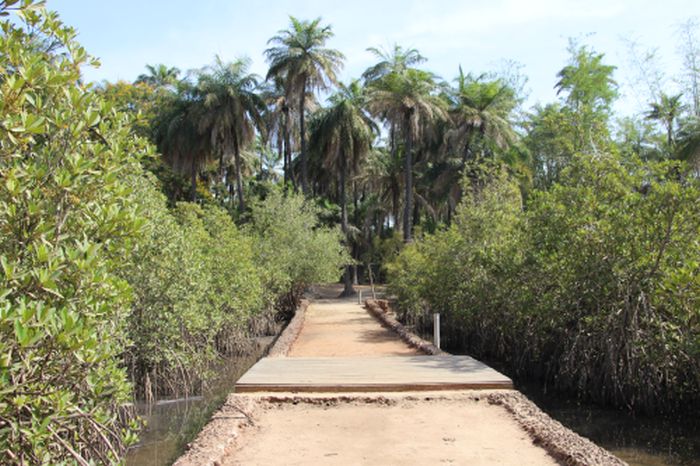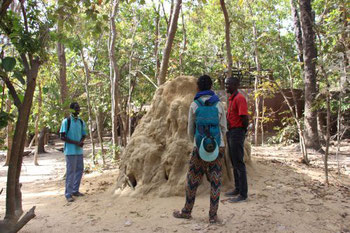 Makasutu cultural forest is a private, ecotourism woodland reserve estabilished by two British entrepreneurs. . The reserve  was opened to tourist and general public in 1999 and is located about 5 km from Brikama . One can either stay in their luxurious eco-friendly Mandina lodges overnight or join a tour around the reserve and enjoy the lunch close to the creek. The tour itself takes you through riparian forest and mangrooves inhabited with a plentiful wildlife. Perhaps, the most common are Guinea baboons (Papio papio) that have been rehabilitated into the reserve and now there are over 200 of them roaming free. If you manage to make it here,take a trip on  a traditional 'dug out' canoe as this way definitely feel the tranquility and harmony of this unique spot of the Gambia. Afterall, Makasutu literally means 'holy forest' in Mandinka.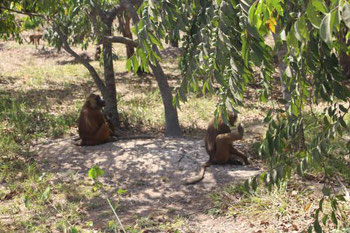 Among other species you might encounter in the various habitats are monkeys such as Western Red Colobus Monkeys, Vervet, mongoose, bats, squirrels and Dwarf deer (Moschus berezovskii) or crocodiles and manatees. The reserve contains various palm trees such as coconuts, mangroves, silk cotton trees (kapok), banana, camel's foot tree, mahogany and baobab tree. Some of the trees and plants are used as means of traditional herbal medicine.
BIJILO FOREST PARK & NATURE TRAIL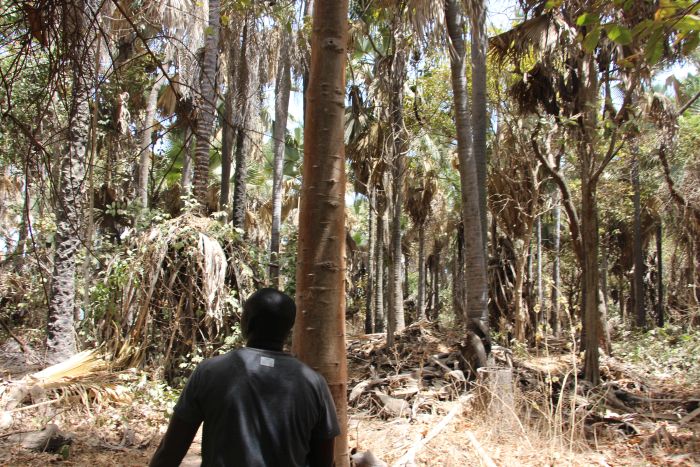 Bijilo Forest Park is perhaps better known as a Monkey park as there is a high chance of getting close to habituated population of primates: the green vervet monkey, Western red colobus and patas monkey. Other primates recorded in a park are Senegal Bushbabies, Common marmoset (Callithrix jacchus),  Campbell's Mona Monkey (Cercopithecus campbelli).
The park is very close to Senegambia strip and you have to pay an entrance fee and pick up one of the guides (mind you tip is expected). There are different path options you can choose from depending on the length and time you want to spend in a park. It's good to remember to not to feed monkeys in the park as they can become more aggressive overtime. They have plenty of food sources and the sign at the gate says to not to feed monkeys, however, not far from the entrance people sell peanuts and sadly tourists buy them in order to take close up pictures of monkeys. Notwithstanding, it is a pleasure to walk around a park on a well maintained paths and enjoy the exotic vegetation and birds!